Honda and Suzuki Sales & Service …Since 1964
Welcome to North's Services, Inc., located on the Pittsfield – Lenox line in Lenox, MA.
At the same location since 1964, North's Services has been serving the Motorcycle and ATV needs of Berkshire County residents and visitor alike …for over 59 years.
As your local, authorized dealer for Honda and Suzuki Motorcycles and ATV's, North's Services is proud of its ever growing list of satisfied customers in the Northern Berkshire, Southern Berkshire and Central Berkshire areas …and beyond. In addition to our selection of Motorcycles, Dirt Bikes  and ATV's, we feature an excellent inventory of Scooters for you to choose from.
Need a used Motorcycle, ATV, Dirt Bike or Scooter? If so, Click Here or stop by and let our friendly and knowledgeable staff assist you with one of our many quality and recently serviced used Bikes or ATV's.
IT'S TIME TO SERVICE YOUR BIKE OR ATV FOR THE SEASON!!!
2017 Suzuki Super Service Award – The Service Department at North's Services has received the Suzuki 2017 Super Service Award. Our mechanics combine knowledge and know-how with more than 30 years of experience working on all types of Motorcycles, ATV's, Dirt Bikes and Scooters. At North's Services, we provide a wide range of services including: Tire Mounting & Balancing, Inspection Stickers, Mufflers, Brakes, Tune-Ups, Re-Builds and Accessory Installations available.
From Motorcycles to ATV's …Dirt Bikes to Scooters, plus Award Winning Service, Accessories and Parts makes North's Services the clear choice for riders in the Berkshires …and just minutes from Downtown Pittsfield, MA.
Replaced front tire did great job was stranded rode from Detroit.
-Jim M.
Every single individual in this establishment is friendly and very knowledgeable! Their customer service exceeds my expectations every time I am there! Great job.
-Sabrina H.
Prices are the same as the discount or mega internet retailers! They got all of my 88 Kawasaki KX parts at or below the prices I found online and they aren't even a Kawi dealer!! Buy local, support your community.
-Greg C.
Great shop and friendly people. I'll be back.
-David P.
Great place.. Chris North is a real nice guy. Very helpful, knowledgeable, staff.
-Al P.
Chris and the crew are great.
-Joel K.
I went into North's and they had everything i needed and they got it right away. I will be purchasing all of my dirt bike parts from here.
-Jared C.
Great atmosphere, knowledge, friendly crew.
-Richard P.
North's Motorcycle Service Is the Greatest!
-Mr. Mike
Great people, knowledgeable and helpful!.
-Ryan E.
Great place to buy, to get service,awesome place.
-Betty B.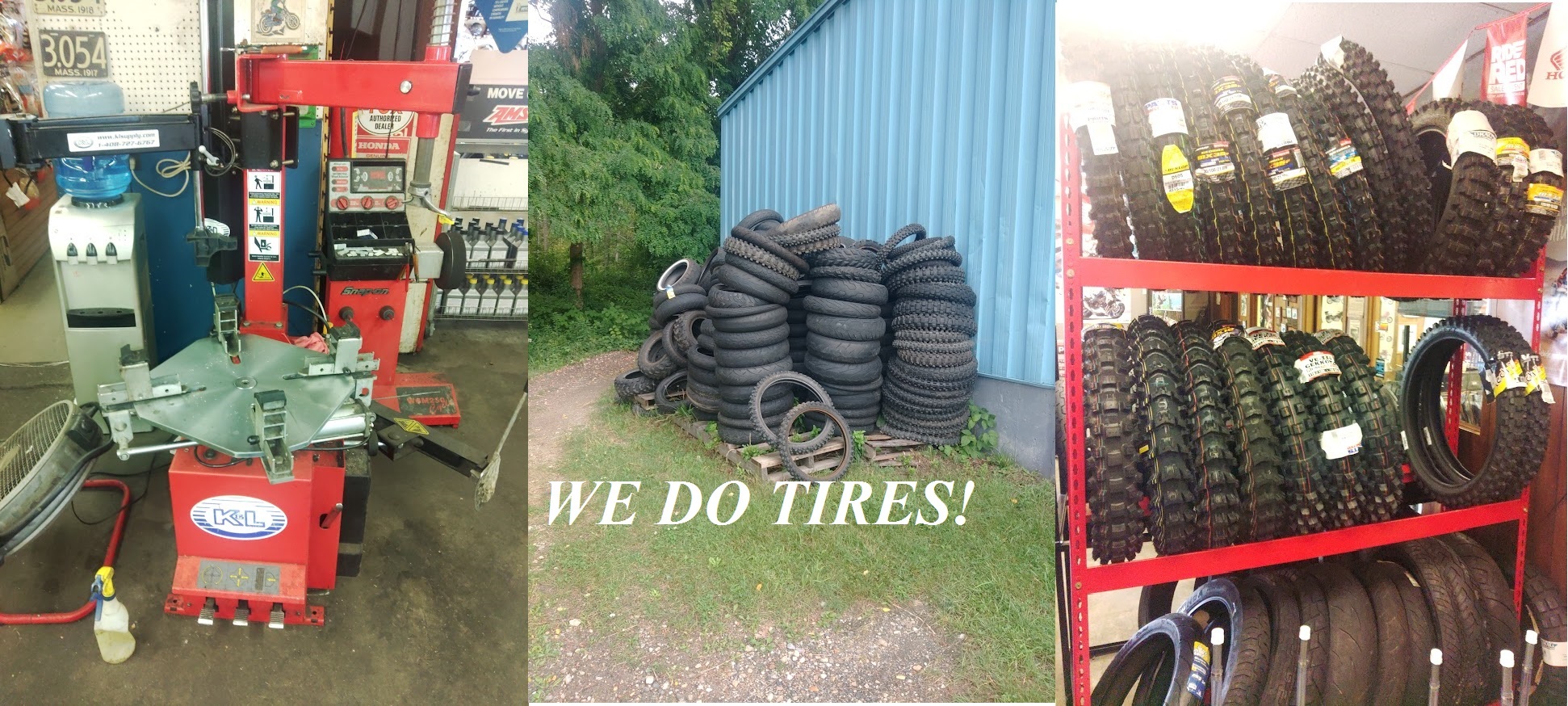 Come See Us For Your Next Tire Change!